VIEW FULL BIOGRAPHY
I started studying music at a young age, taking interest in piano, saxophone, and guitar. By the time I reached middle school, I was writing songs and starting my own bands. My love for music continued to grow into a personal passion throughout high school and the years after.
During the first years of college, I founded the band End Point (later Devil's Key), with whom I recorded two full-length albums, played regular shows, gained a fan following, and was featured numerous times on the FM radio station 97.6 I-Rock (both in songs and interviews). During these years, I completed my Associates of Arts degree at Heartland CC.
I continued my education at Columbia College Chicago, receiving a Bachelor of Music degree in December of 2011. While at Columbia, I studied composition under renowned composer Marcos Balter, conducting under choral director Bart Bradfield, and guitar performance under prolific Chicago blues guitarist Fernando Jones. During this time, I performed with academic ensembles, developed my compositional style, and began collaborative endeavors with many other artists and film students.
Since graduating from Columbia, I have provided compositional work for TV shows, video games, animations, commercials, films, trailers, webseries, and music licensing companies. Additionally, I founded the audio production house Point One Audio. I now work for AGS, an international company that develops games for the casino floor. While headquartered in Las Vegas, a main creative department for AGS is based in Atlanta, where I work full-time as an in-house music composer/sound designer.
VIEW LIST OF ARTISTS / BANDS WITH WHOM I PERFORMED LIVE
Alibi None
(variety rock band)
Q&A
(acoustic duo)
Mosley Todd
(heavy metal band)
Shawna Flowers
(violinist/pop musician)
Jordan Ring
(drummer/singer/producer)
Showman
(drummer/frontman)
Downtown Charlie Brown
(Chicago pianist/frontman)
Jim Perona
(solo guitarist)
Richard Geist Jr.
(guitarist)
Bobby G
(Chicago blues bassist/frontman)
Jimmy Nick
(Chicago blues vocalist)
Sister Beth
(Chicago blues vocalist)
Devil's Key
(heavy metal band)
Gunslinger's Dream
(jam rock band)
End Point
(hard rock band)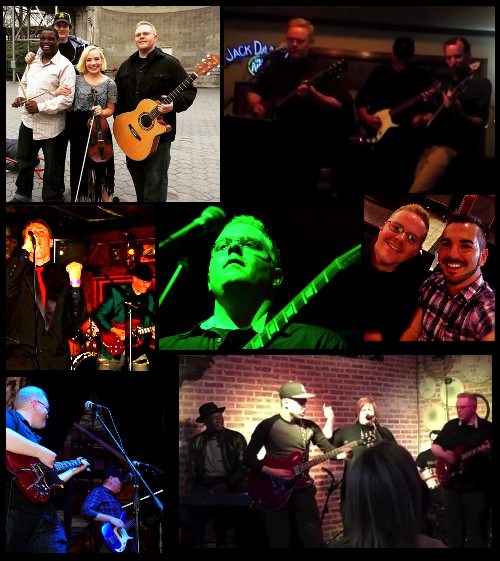 Find me on:
SOUNDCLOUD
FACEBOOK
REVERBNATION

GREENLEEADAM@LIVE.COM
Copyright © 2011-2022 Adam Greenlee All Rights Reserved